Flowers | Nail Art Tutorial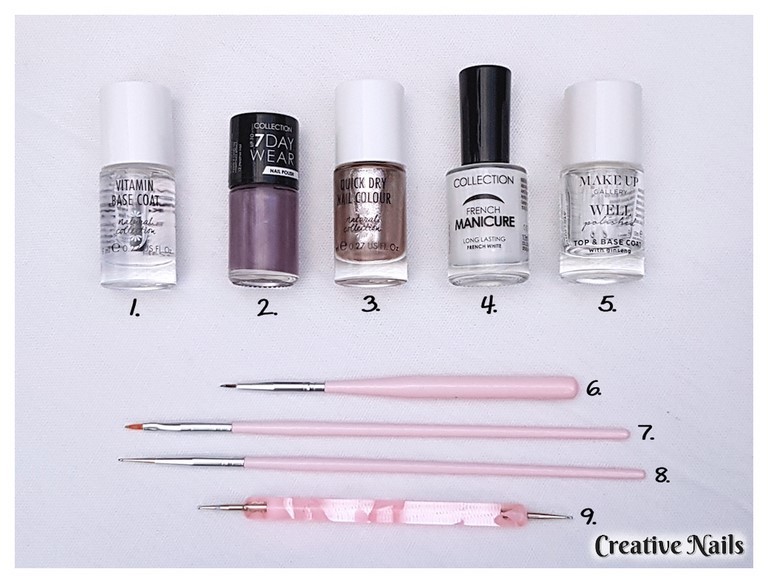 1. Vitamin Base Coat – Natural Collection
2. 7 Day Wear Nail Polish – Collection – Heather Mist
3. Quick Dry Nail Colour – Natural Collection – Champagne Shimmer
4. French Manicure Long Lasting – Collection – French White
5. Top & Base Coat – Make Up Gallery
6. Pointed Drawing Brush (Small)
7. Pointed Drawing Brush (Long)
8. Dotting Tool
9. Dotting Tool
Would you like this design painted on false nails for you?
If you can't find this design with our other false nail sets in our shop, please

contact me

and I will happily sort it out for you!
Now lets show you how we created this flower nail art!
step 1
First of all it is important to make sure your nails are clean and ready to be painted before we start, so we need to do a little bit of preparation. If you have nail polish on already, you will need to take it off with some nail polish remover. After this is done, I usually wash my hands just to ensure my nails are completely clean.
Then it's time to tidy your nails up a little and to shape them to how you want, using with your file. Also, if you want make your nails appear longer – you can push back your cuticles. If you place your hand in some warm water for a few minutes, it will help soften your skin making it easier for you to do this.
Once you are ready, you should apply a base coat to your nail as this will protect your nails from being stained but also will make applying your nail polish much smoother. We used the Vitamin Base Coat (1) to do this.
step 2
Once your base coat is dry (this shouldn't take too long), we can start moving on to the more exciting parts – deciding what colour you want your nails to be! For this look, we decided to go with a really pretty dark purple colour as we felt that it would make the white flowers stand out more, but also it is perfect for an everyday look or if you are going out in the evening! We applied two coats of the nail polish in the colour Heather Mist (2) as this makes sure the nails are covered well.

We recommend you apply two thin coats rather than one thick one as the thicker the coat, the longer it will take to dry!
step 3
Once the purple nail polish is dry, the real fun begins – time to start creating the flowers! We decided on using the ring finger to be the main focus of this look and have the flowers on there. We placed small dots with the thinner dotting tool (8) with the nail polish in the colour Champagne Shimmer (3). This lets you plan out where you would like the flowers to be easier!
step 4
Once you are happy with where you have placed the dots for the flowers, it is now time to add the petals. We used the slightly bigger dotting tool (9) to create them with the nail polish in the colour French White (4). It doesn't matter if you cover the gold dots as we will apply them again at the end.
step 5
We decided to add a little bit more to this nail look, by adding some stripes on the index finger. We did the first stripe with the nail polish in the colour Champagne Shimmer (3) using the small pointed drawing brush (6). You could mix up the colours, but we thought it keeps it more elegant looking using the same colour theme!

If you wanted to, you could leave this part and just have the flowers but we thought this added a little extra!
step 6
After the gold stripe dried, we added another thin line just under it with the nail polish in the colour French White (4) using long pointed drawing brush (7) to complete the look.
Once it was all dry, we went over the gold dots in the centre of the flowers and then applied a top coat with the Top & Base Coat nail polish (5).
And that's it! It's a simple but really pretty look that can be created very easily. Perfect for everyday wear if you want to add a bit of extra detail to your nails or if you are going out!